To Our HIT Capital Partners,
I hope this update finds you happy and healthy as we launch into 2023.
In 2022 we spent the first half of the year building out our investment software and the second half learning from it.  I'll share a few of our learnings and two top stock picks below after sharing our most recent fund returns and portfolio allocation.
Performance
HIT Capital increased 11.26% in the second half of 2022, outperforming each of the global benchmarks by ~10% (International returned 0.85%, S&P 500 1.37% and the hedge fund index 0.43%).  This brings HIT Capital's annual return to -22%, compounded annual growth rate to 8% and total return since inception to 120%.
Allocations
As can be seen in the charts above, we are invested in 22 different securities spread across 10 industries and 6 countries.  82% of our investments are in small or micro-cap stocks and 92% are associated with our value, quality and momentum strategies.
The increase in smaller companies is directly related to the following three things: the expansion of our stock universe (1500 to over 10,000), the completion of our investment software, and the additional layer of qualitative research.
Research Learnings 
The investment software has broadened our stock universe by giving insights into the smaller stocks of which information is not typically readily available.  Since the software sorts and ranks the companies based on value, quality, and momentum it allows me to focus my time on the top ranking stocks.  I believe the investment software and our value and high quality momentum strategy will outperform on its own, but I'd like to see if we can do even better with another layer of research.
My initial learnings from the extra layer of research are signaling that we can do better.  Here are 5 examples why:
Cyclical Adjustments – Current reality can be additive to the metrics the software uses to rank stocks. For example, container shipping companies are not expected to do as well in 2023 as they did in 2021 and 2022.
Political Risk is difficult to determine and state majority held companies may have identifiable reasons for being cheap. For example, when diving into PetroChina and PetroBras I learned their upside was limited due to internal incentives and government mandates to subsidize constituents versus maximizing shareholder profit.
Risky Revenues, some businesses have consistent revenues that could end abruptly ie. patents expiring, contracts lapsing, or construction projects ending.
The Financial Sector is investable. Value investors typically remove the financial industry from their investable universe from the start.  Having a qualitative overlay and portfolio diversification allows us to manage the inherent default risk found in some of the financial/banking stocks.  We currently own the bank Finwise (8% of our portfolio) and its deal memo can be found here.
One Timers sneak through. The high quality momentum factor eliminates some non-recurring or soon to be recurring items but a qualitative overlay helps catch a few more.  Acquisitions, dispositions, hedges, subsidies and grants are one time items I found.  The specific adjustment I made the most often was around covid loan forgiveness.
Stock Spotlights
Our top two stocks over the past 6 months were: Sanara Medtech (SMTI) and Vaso Corporation (VASO).
Sanara MedTech is a micro-cap that has since grown to a small cap of which could become a mid cap.  They are building out a platform of products and services that are beginning to disrupt an antiquated skin and wound care space.  The company's goal is to improve outcomes and lower costs throughout the continuum of care.
They earned a spot in our portfolio because they have strong momentum characterized by an experienced management team with high conviction, a strong pipeline of high margin products with significant traction, and they are addressing a fragmented, growing, multi-billion dollar space.  Sanara Medtech has been growing at 45% a year since 2020 and has been executing on their founder Ron Nixon's vision.  For more details on Sanara Medtech my deal memo can be found here.
Vaso Corporation is an undervalued (PE of 6), unknown (no quarterly investor calls), and growing (+12% YOY) micro-cap ($24 million) that is operating in the healthcare equipment and information technology space.  Vaso Corporation is in our portfolio because they are cheap, growing and our qualitative research found their leading indicator, deferred revenue, to be signaling further growth.  For more on Vaso you can read my deal memo here, of which gained us membership into the Micro Cap Club.
Regulatory
HIT Investments and HIT Capital are both still undergoing an audit by the Texas State Securities Board.  We have not received an initial audit response from their surprise visit in late 2019.
If you are interested in reviewing our privacy policy or my 2023 ADV, the link to each is below.
History
As we launch into 2023 I'd like to close with a few of my personal highlights over the past 30 years of building HIT.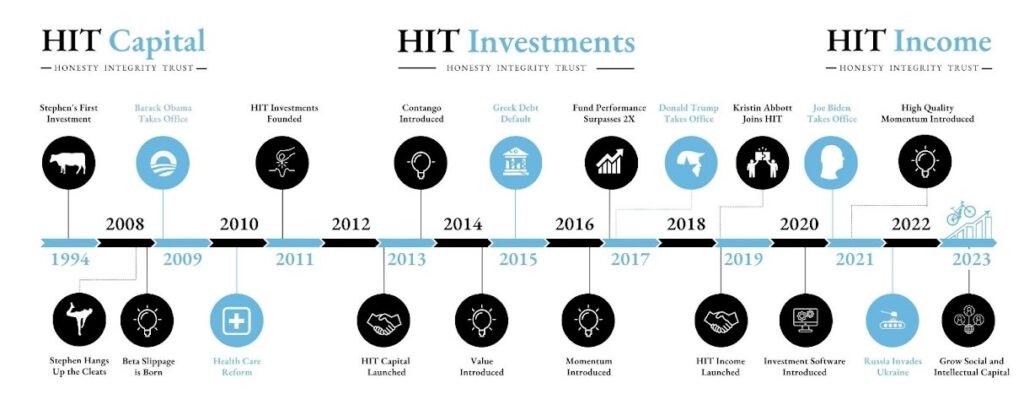 In 1994 I made my first multi $100 dollar investment with the help of my parents.  I bought and raised two calves and reinvested in beef for 4 more years, never making more than $120 and paying myself $0 for the effort.
In 2008 I lived out my dream of playing professional baseball where we won the Continental League championship.  After the celebrations ended I felt something was missing and decided to pivot and focus my energies elsewhere.
In 2011 the new focus culminated into HIT Investments and it sprouted a love of reading, writing, and coding.
In 2013 I launched HIT Capital with family and friends on the back of a little known inefficiency, Beta Slippage.
In 2019, Kristin joined HIT and we expanded into the fixed income space launching HIT Income.
In 2022, we finished HIT Capital's investment software incorporating value, quality and momentum into one strategy.
In 2023…… our goals are more fun, more research, more deal memos, and more social capital
Conclusion
Looking back, it has been a fun and tumultuous journey filled with mistakes, challenges, wins, and losses.  The most important highlight I didn't mention above is and has been the consistent and strong support I receive from you, my family, friends, and partners.  For you I am grateful.
Until next time, have a safe, prosperous, and joy filled 2023!
Warm Regards,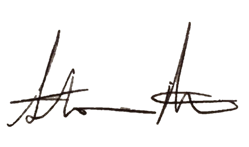 Stephen Read